​
More...
EXTRA, EXTRA, ITS UPDATE TIME!!
---
Yes, the shouting was necessary, I got excited…I wanted to shout it from a mountain, but I didn't have a mountain I had a blog headline.
Yes, update time gets me that excited.  
Why?
Because every update makes HC just a little bit better and a better technology means more impact for the coaches that use it.
Below are the things we updated, fixed, or built from the ground up.
1. Multi Select Dropdown
You can do mass actions right from the client page.  You could do this before, but it was ugly…..we made it prettier now.
 
Once you click the little white checkbox next to a client, a slick box will pop up that will give you actions you can perform on the client.  This pop-up box was a really cool addition by our developers.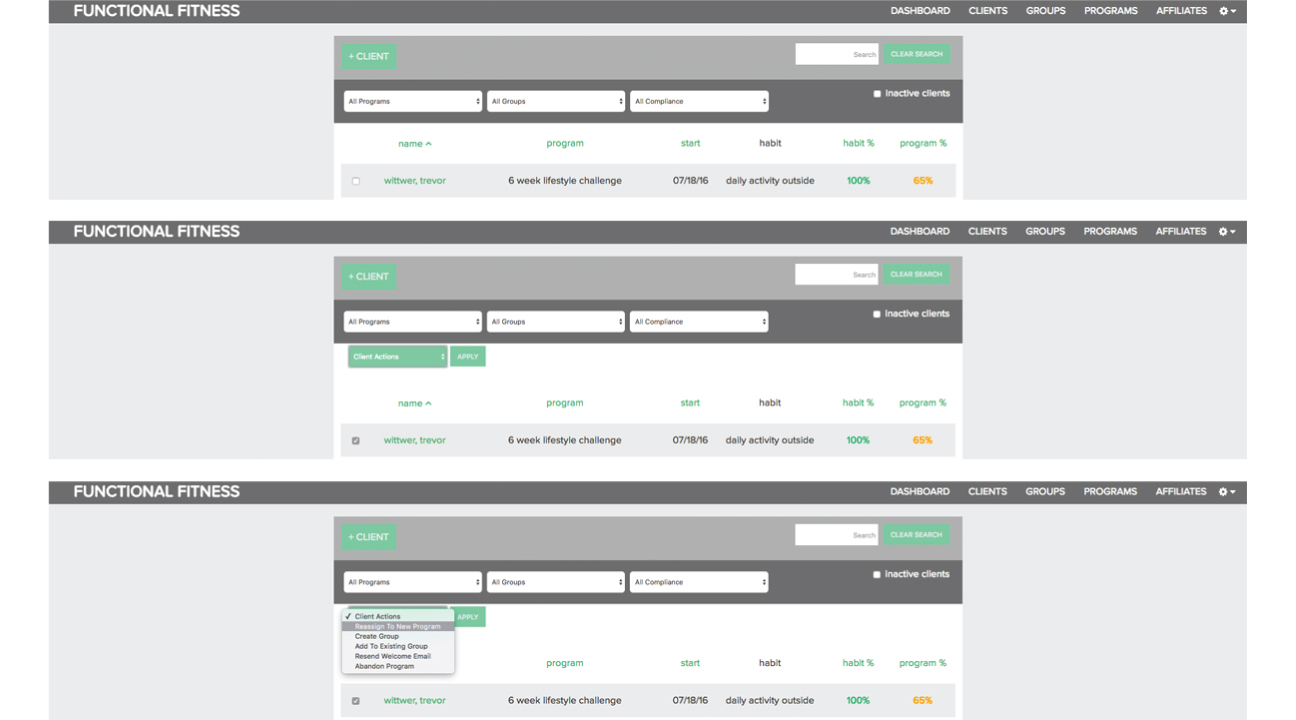 Click, now you see it, unclick, now you don't!
The client actions you can take have been expanded as well.  You can…
Create a group

Reassign to a new program

Add to an existing group

Abandon programs

Re-send welcome email
2. Gym Labeling
Our end goal with Habit Catalyst is to make your brand stand out more so the client is very clear that the information is coming from you.  We are moving much of HC's branding to the bottom and just using "powered by Habit Catalyst."  
So, we did a few things to move closer to this goal in the last update.  We are also making a few more changes to improve the look that will go to the app store Friday or Monday.  Stay tuned!
You now have the ability to upload your logo.  You can do this in "My Account."
                   RANT:  For the love of Shiva don't upload a poor pixelated picture.  We are working on some size restrictions so your logo looks extra pretty on a phone. If you need some help with a picture please email, but try it first on your own.  We can help with this.    
The logo will appear on the habit check-in screen on the app (see below) and your gym name will appear across the top of the app (see below) and in the top left corner of the client-facing browser.  This definitely isn't finished, but it's a step in the right direction.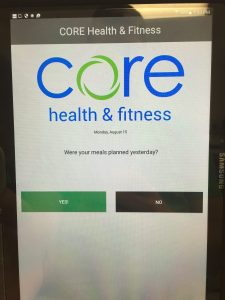 3.  Push Notification on Day 1
The system used to send an email on Day 1 no matter what, even if someone had downloaded the app and logged in.  Now, if someone downloads the app and enters in their unique code they will get pinged on their phone, rather than through email, to read the first lesson.
4.  Fixed Bugs with Groups
The group feature needed a tune-up.  We took it to the mechanic and had him give it a once over.  Like any tune-up, we found a bunch of things wrong and our bill was a little more than expected. Ever had this experience at your local auto mechanic? Go in for an oil change and come out with new brake pads and $200 for shop wipes? $200 for shop wipes…..they better have been made of kitten fur.
Here are the details…..
The reporting is much more accurate.  

If you abandon a program of someone in a group they get automatically kicked out of the group.  

You can delete groups…..finally

Clients are alphabetized so it's easier to add and remove clients from groups
5.  TWO New Done-For-You Programs
At the end of this week, we will be making two new done-for-you programs available to our premium users.  A 6-week lifestyle focused program and a 6-week transformation program. 
The Lifestyle Program is 6 weeks of lifestyle based habits complete with content.
The practices are…
No screens after 9pm (or within 30 minutes of going to bed)

Spend 7 hours in your bed

Write 3 gratitudes every day

10 minutes of meditation each day

15 minutes of activity outside every day

Plan and Prepare for the day the night before
The Transformation Program is based on the Transformation Challenge I will be running at Functional Fitness in September.  It's a 6-week challenge and you can use it as is or use it as starting point in creating your own challenge.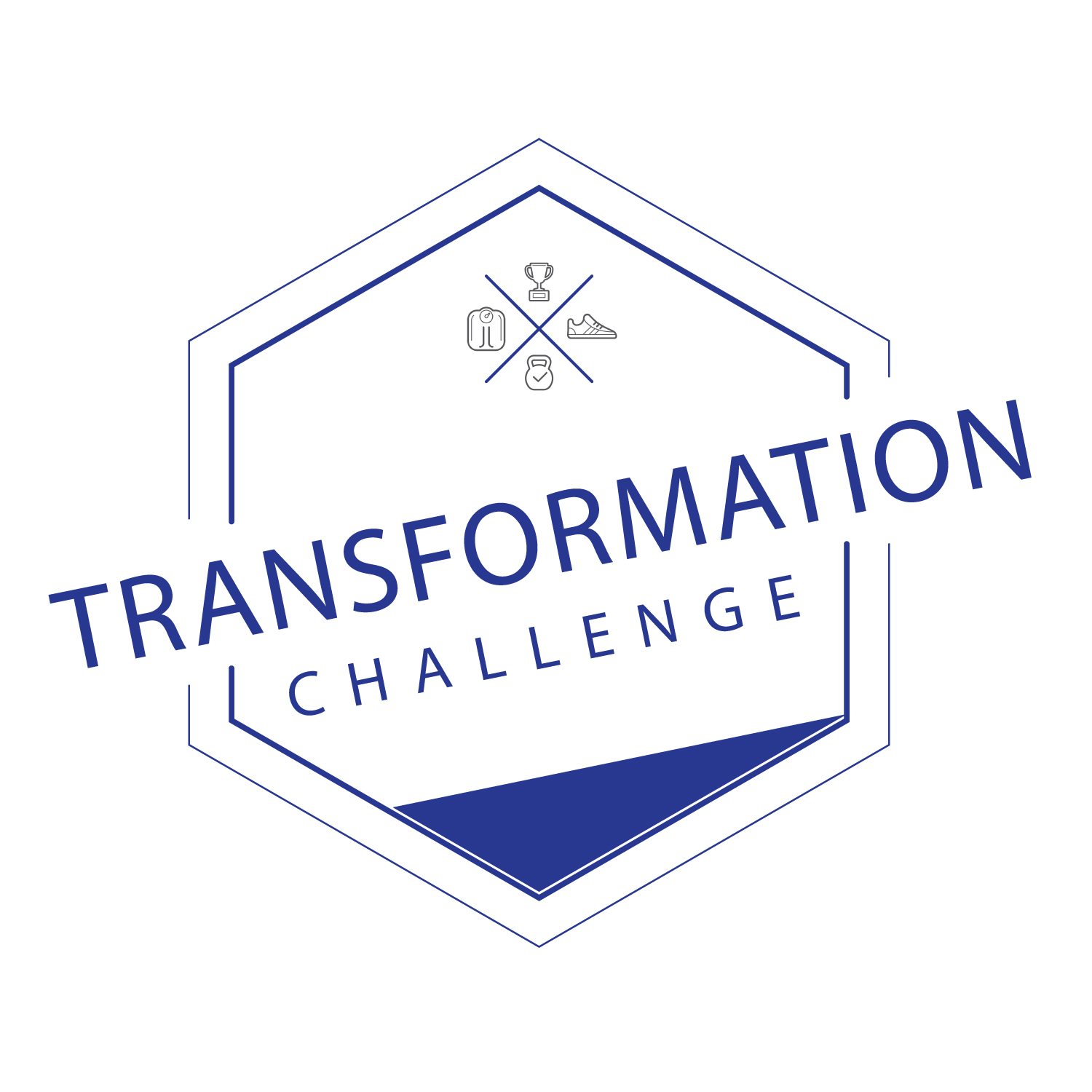 This challenge has all brand new content, different from anything else we have written.  
We have also created a done-for-you manual on how to run the perfect Transformation Challenges complete with everything you will need right down to the forms clients fill out.  We are going to be selling this manual for $299 in the near future but because we love you as a user you can get it for free but only for a limited time.  It's not quite done yet, but our premium users will be getting and email about it soon.
Also, the Transformation Challenge Program in Habit Catalyst will only be available for FREE for about a month.  This program is so good it's going into the marketplace and will be available for purchase.
                                 AWESOME SAUCE: Because you are an early adopter you get it for free so make sure to download it before the middle of September.  
So, what are we working on NEXT?
One thing I hate about software companies is that you never know what they are working on.  You put in requests for features but never really know if they are actually listening to what you are saying.  In an effort to be more transparent, here is what we are working on next.  
Because we are a small start-up and don't have the staffing or funds to do massive renovations, we have to pick and choose our battles.
A Marketplace
The most time-consuming part of Habit Catalyst is creating content.  What if, experts in their respective fields created compelling content, then the rest of us could just purchase that content from them and use it with our clients.
You asked and we are in the process of delivering.  This is going to be the coolest thing since…..amazon?
Re-configuring Reports
I believe emailed reports are a great concept but the execution was sub-par.  These were created very early in the development process and need a revisit.  As coaches, we don't have a ton of time.  This very thought drives a lot of my thinking at Habit Catalyst.  How can we provide the most relevant information quickly to coaches so they can keep clients on track instead of having to look for information.  
Soon we will be changing the "client no check-in" to "At-Risk Clients."
HELP:  If anyone has a better name than "At-Risk Clients" please email me back.  
Basically, if a client does NOT check-in or answers NO they will get an X, if you get 3 X's in a row you show up on the "At-Risk Clients" report and a coach better be reaching out to you soon.
NOTE:  You will be able to change this parameter to fit your business.  Instead of 3 days you can pick 2, 4, 5, 6, 7, 100 days before they show up on the report. (I don't suggest 100 or even anything over 3 for that matter)  
If you enjoy Habit Catalyst or want to make it better.  Please reach out to us.  Kane and I manage every single email that comes in.  Even if its just to comment on Kane's flashy profile photo.
We are not a huge megacorp where you don't know the people behind the art.  We both are still in the trenches running successful gyms.
We take responsibility for all the good and especially the bad of Habit Catalyst.  We are going to continue to push this thing forward with the support and input of coaches like you.
Like anything, the more coaches we can help the faster we can develop, so tell your coaching friends if you find it valuable.  Use your affiliate link though 🙂  You need to get paid too.
Have a great August and make sure to take advantage of the second January in your business – back to school time. As always, if you need help with anything here is my call schedule.  I always love to chat (free coaching calls).
BroHugs and FistBumps
-Trevor
P.S. Kane is going to be "super excited" I put his picture in here
P.P.S.  If you got this far and have no idea what to do with Habit Catalyst, lets get on a call.