​
More...
Super Duper Updates!
---
Quick, scroll down so the giphy doesn't give you a seizure.  Ron Burgundy giphy, great in theory, hard on the eyes.
Now hopefully you buried the giphy and we can get down to business.
If you are a premium user you may have noticed some of the changes on your HC platform last week.
But, just in case you are like me and oblivious to most things, here is a quick recap.
1.  Marketplace  
The most time-consuming part of creating a new program is creating content.  You need to research, write, edit, re-write, etc..
Why not have the best in the world create content on things like a detox, a transformation challenge, a mindset program, or a corporate program and then we use these programs with our clients. Everybody wins!
Under "Standard Programs" you will see all the programs that are still gratis.  The Transformation Challenge Program one is free right now but will go into the marketplace in a few weeks so if you want it without having to give anything in return for it make sure to download it before it goes away.
This idea of a marketplace has been a twinkle in Kane's eye for awhile now and it is finally born. Expect this thing to grow and multiple in the near future.
Here is what it looks like: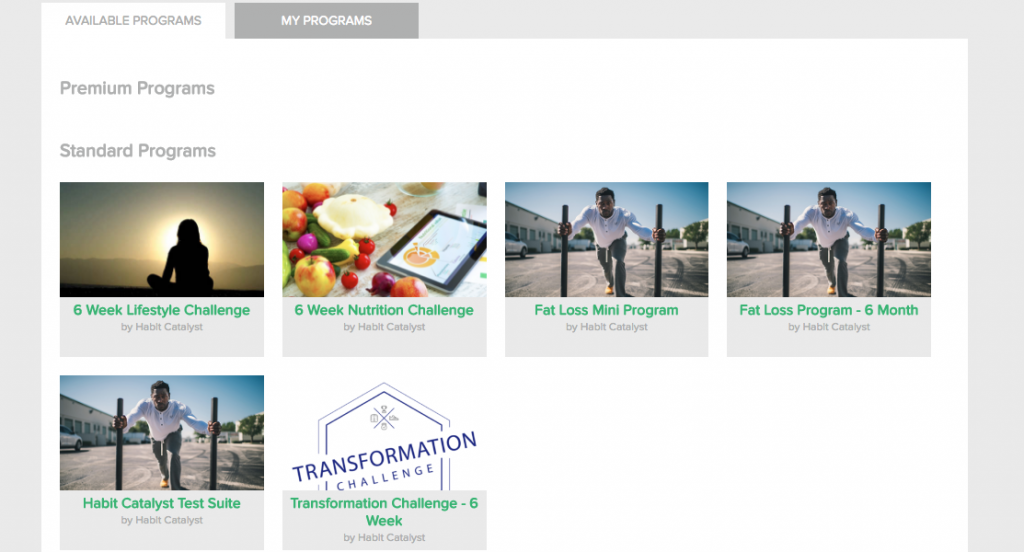 All your programs are still there under "My Programs."
2.  New Emailed Report Look
Our job is to think about how to make your life easier.  As a coach, I don't want to have to log-in to a software every day.  I want the software to tell me the most pressing information.  This is why we have email reports that get sent out as often as you would like.
We decided we didn't have enough information on a report to be able to follow-up with clients. We added more information to the reports to give you a better understanding of where a client is and how they are doing.  Like before, click their name to email.
Also, the reports now gather information at 11:59pm the night before and get sent out at 9am so the information is more accurate.
3.  Made a Reporting Function Better
We had a report and sorting feature called "Client – No Check-In."  While this was great because we could easily see the people that were not interacting with their check-ins we were missing out on all the people checking No's.
To solve this, we replaced "Client – No Check-In" with "At-Risk Clients."  This report counts anyone who has NOT checked in or has checked NO with their check-in for a consecutive number of days.  You can change the length of days in the "compliance settings" but the default is 3 days.
Here are some examples of clients who would show up on the report.
Client A:
Day 1:  Does not check-in (indicated by a ?)
Day 2:  Checks in with a no (indicated by an X)
Day 3:  No check-in (indicated by a ?)
Client B:
Day 1:  Checks in with a no
Day 2:  Checks in with a no
Day 3:  No check-in
Client C: 
Day 4:  No check-in
Day 5:  Checks in with a no
Day 6:  No check-in
You get the picture.  If a client checks in as "No" or does not interact with the software for consecutive days that client shows up on the report.
In my gym, for our coaching programs, we set it to 2 days because if someone has two "No's" in a row we follow-up with them.
Note:  Not all the wording has been changed yet from "Client No Check-In" to "At-Risk Clients" but the reporting function is up and running.
Now, we want your help.  I have some ideas on what we should start developing next but what I want isn't always what you, the coach wants.
We created a quick survey of some major features that have been requested.  We need your Top 5.
Be like Ace, help us be better HERE!
Smile, Life is Good –
Trevor and the Team at HC